Home
>
Mount Naranco, the carbayón mountain
Mount Naranco, the carbayón mountain
Hotel Vetusta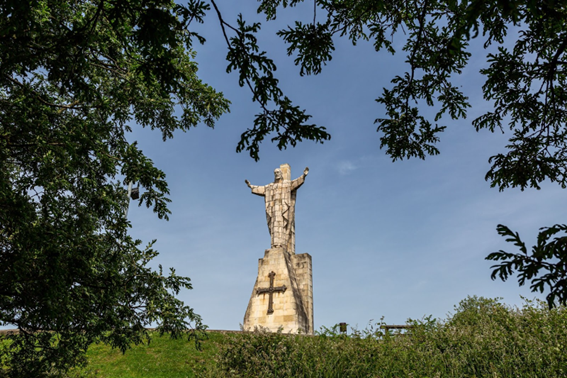 The ancient city of
Oviedo, or Uviéu
in Asturian, is a Spanish gem distinguished for its beauty and cleanliness. What makes this city even more special is its natural surroundings, as it is located in a basin surrounded by mountains of the
Cantabrian range
, about 20 kilometres from the
Cantabrian Sea. In fact, Oviedo
is situated at the southern foot of the Monte Naranco, which can be seen from almost any corner of the town. Additionally,
Monte Naranco
holds some of the most impressive pre-Romanesque monuments of Asturias and Spain: the palace of
Santa María del Naranco
and the temple of
San Miguel de Lillo.
The dense oak forests or carbayeras, green meadows and hórreos are just some of the elements that blend with the city, providing a fresh and rural atmosphere in the midst of the urban area. This fusion between the rural and the urban makes
Oviedo
a very beloved place for those who visit it.
One of the best ways to enjoy the nature, history, and culture of
Oviedo
is by taking routes through the
Monte Naranco
. And an interesting option is to hike up Monte Naranco. This challenging 16 kilometer route, with a cumulative ascent of 770 meters, starts from the
Purificación Tomás Park in the Vallobín
neighborhood.
To start, follow a trail that exits from the upper part of the park to the left. This comfortably leads to the town of Ules. From there, take a stretch of road until reaching the high part, near Brañes. Once there, turn right, taking the trails that quickly lead to the summit of Llampaya, where the mountain is finally crowned.
Along the hike, you can enjoy beautiful panoramic views of the city of Oviedo and its surroundings and, upon reaching the top of
Monte Naranco
, an impressive view of the region will be the reward. Additionally, at the top is the
Cristo del Naranco or Monument to the Most Sacred Heart of Jesus
, which presides over the summit and can be observed from practically any point in the Asturian capital.
So, explorers, if you love nature, hiking, and discovering new places, you cannot miss visiting Oviedo and exploring
Monte Naranco
. This way, you can discover everything about the natural richness of this wonderful city and region, with its spectacular panoramic views and architectural heritage. Likewise, for a complete experience, we encourage you to stay at our
Vetusta Hotel
in
Oviedo
, where you can enjoy a comfortable and cosy stay. Located next to the old town and close to many shops, it is the perfect accommodation to explore the city and the natural spaces surrounding Oviedo. Don't think twice, come and discover Oviedo with Hotel Vetusta!